Shipping containers can be used for all types of buildings, including swimming pools, hospitals, and schools to name only a few. They really are a blank canvas that can be used to create all types of structures, including commercial spaces. Offices, in particular, are an interesting application for containers, as a large portion of the population spends many of their waking hours inside one.
While using individual shipping containers as mobile or site offices at construction sites is fairly common, we're more interested in companies that have stretched the limits and used multiple containers to capture a unique, modern aesthetic. We're also seeing a lot of companies that serve the coworking market start to use shipping containers. Coworking is a newer phenomenon that typically provides both flexible private office space and shared, open working areas, depending on a company's needs.
Let's take a look at some of the most interesting shipping container offices we've discovered from around the world.
Epic Creative Co-op
Nestled in The Woodlands, a forested community north of Houston, Texas is the Epic Software's Creative Co-op. This building was a labor of love for the company's founder who wanted to create a space for different types of creative entities. Featuring several office suites as well as a huge film studio, the space is certainly unique. It features 11 shipping containers, several porches and elevated walkways, and an angled roof system made of wooden trusses.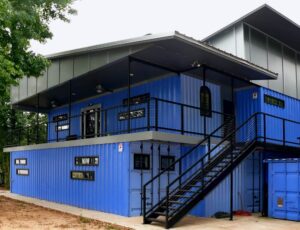 The Sugoroku Office
Daiken-Met is an architectural firm that built this unique container office in Gifu, Japan. They didn't build the project for clients though, it's actually their own office. The three-story building uses seven 20 foot shipping containers to create a space anchored by large windows facing the street and giving a view inside. They also utilized a bold staircase design that cuts across the facade.
What's most interesting about this office is the steel frame that supports the containers, walkways, and patio areas. The frame was added to make disassembling and moving the containers easier. It is just sitting on the ground and doesn't have a foundation given that the land underneath is leased. Given that containers can be easily and stacked and attached together with locking hardware, it seems like an unnecessary expense and complication. Nonetheless, it is a beautiful office.
Drukta + Formail Office
When direct mail company Formail and printing company Drukta decided to join forces, they wanted their combined office to have a bold edge to it. Their architecture team outfitted a warehouse in Belgium with numerous containers that provide more intimate meeting and working spaces, while the warehouse floor is maintained for the actual production work. The warehouse had existing loading docks which were combined with additional containers to make entrances into the space. It's a novel approach that gives a hint on the outside of the warehouse that things inside are far from ordinary.
Hoonigan Racing Division Headquarters
The Hoonigan Racing Division is the race team for Ken Block, the famous rally car driver. The team's Park City, Utah headquarters is impressive, with 17 shipping containers in bold colors stacked two high in a variety of ways. The containers are placed in a huge 12,000 square foot warehouse that includes both office and garage space.
Futurebox
Futurebox is a business incubator and accelerator owned by Danish Technical University in Copenhagen, Denmark. It exists to help startup companies and industry partners collaborate on innovative hardware projects. The three-story building is made of twelve 40 foot containers and two 20 foot containers and is home to dozens of companies along with workshops and collaborative areas.
MVP Group
Marketing Via Postal Group, Inc, based in Santa Ana, California, had a large unused warehouse and wanted to build smaller offices inside the warehouse. Instead of using traditional cubicles or other office build-out techniques, they opted to convert used, 20-foot shipping containers into work and break spaces.
Ten containers were used and MVP employees converted the containers themselves. The containers were purchased for $1,000 each and a further $3,000 was spent equipping them with electricity, heating and air conditioning.
The warehouse now has nine offices plus a kitchen and bathroom. Not only that, but MVP is saving thousands per month in energy costs because they no longer have to heat the entire warehouse.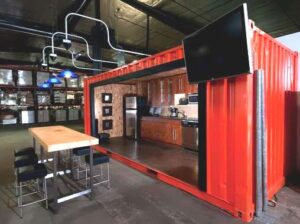 CBox Coworking
Found in the entrepreneurial and digital nomad hub of Medellin, Colombia, CBox Coworking is a hub for people looking for temporary or flexible workspace. It is a two-level structure made of numerous shipping containers that also has an outdoor area that takes advantage of container overhangs.
Bakke Rij
This unique workspace is housed in a warehouse that used to serve as a bakery in the Netherlands. While a bit hard to pronounce for non-Dutch speakers, it's easy to see why Bakke Rij is a popular place to work from. It uses 60 shipping containers that form individual offices and work areas on two levels that are available for by-the-month rental. The containers are open the air in the larger warehouse, but each container has in-floor heating elements to help keep you warm.
Boxworks at Engine Shed
The historic Engine Shed development (so named because historically, the building was used for locomotive engines) is a collaborative location in Bristol, England. Businesses, academic representatives from the University of Bristol, social innovators, and others can find a home there to explore new enterprises. Just outside of the Engine Shed building is Boxworks, a custom workspace made of twenty 40 foot shipping containers arranged on two levels. The containers serve as workspaces for creative, digital, and high-tech businesses in the area. Boxworks has a rather simple design, with all the containers arranged neatly beside and on top of each other. The real value is the adjacency of both other Boxworks tenants as well as the rest of the resources inside the Engine Shed.
Containerville
Not far away from Boxworks at Engine Shed is Containerville, an office park in London with a similar theme. Containerville is more expansive though, utilizing 78 shipping containers stacked three-high, and offset on each level to create deck space. Like many similar developments, Containville tenants are generally startups and creative industry types that hope to benefit from the community of like-minded businesses and employees.
Coworx
Wilmington, North Carolina has been showing up on the radars of container enthusiasts lately due to their development of The Cargo District, a multi-use development that makes extensive use of shipping containers. One of the most exciting pieces of The Cargo District is Coworx, a coworking company that actually is based inside a traditionally constructed building, but makes use of containers as interior elements. While Coworx itself doesn't utilize that many containers, its location within The Cargo District really exposes you a lot of different container options.
Gold Coast Creative House
Australia's beautiful Gold Coast area between Sydney and Brisbane is home to beautiful beaches and this interesting coworking space. Gold Coast Creative House is an intimate space that's colocated with one of the largest photography and film studios in Australia and thus seeks to attract businesses in the creative field. The four 20 foot containers arranged on two levels are home to four of the six workspaces. Placed inside a larger warehouse, the containers provide private work areas but aren't integral to the larger building's structure.
Village Underground Lisboa
For those who appreciate the 'funky' side of working, there is Village Underground Lisboa in Lisbon, Portugal. It's home to a large creative community and includes both a performance/events space and coworking with 14 workspaces for rent across three levels. Most interesting to us is the use of 14 20-foot shipping containers and incredibly, two double-decker buses as well. It looks like the kind of place where wearing a suit would draw some stares, but for creative industry businesses, it could be just the right fit!
Moto Republik
We love to see containers used in geographies that you wouldn't normally expect, and Moto Republik is a great example of that given that it is located in Zimbabwe. Despite a name that might conjure up images of motorcycles and race cars, it's actually a creative hub and co-working space. Made of two 20-foot containers and two 40-foot containers stacked three-high, it creates a bold image that mirrors its standing as Zimbabwe's first creative workspace.
Connex Fort Worth
This new office park in Fort Worth, Texas has a similar design feel to The Box Office in Providence, Rhode Island, but with its own unique spin. With several different sized spaces across three levels of stacked containers, the office park provides opportunities for businesses that need either an office or retail space. Connex Fort Worth also includes event space, meeting rooms, and other shared areas for tenants.
Cramer
Branding agency Cramer, based in the Boston suburb of Norwood, Massachusetts, continues the theme of using shipping containers inside a larger warehouse-like space to break up the voluminous interior into more intimate spaces. Taking advantage of six containers stacked two high, the Cramer office has meeting rooms, an elevated reading area, and other spaces to facilitate sharing and learning amongst employees.
Tony's Organic Food Farm
Tony's Farm is located in China and is the largest organic food farm in Shanghai. The incredible office below was added a few years ago with help from the design company Playze which used 78 shipping containers in the project. The container office also includes a welcome lobby for visitors and connects to a large warehouse in the back. The containers are staggered in their stacking, creating several overpasses and cantilevers. They also made extensive use of cutting to create large, sweeping interior spaces.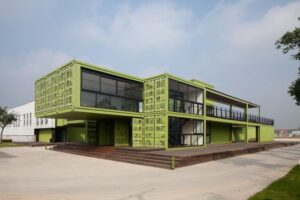 The Box Office
If you've been researching shipping containers for long, you may have already seen a picture of The Box Office and wondered what it was and where it was located. A pioneering team of designers and builders put this iconic structure together in Providence, Rhode Island as a container business park, with twelve office suites ranging from 640 square feet up to 2,560 square feet. Over 30 containers were used in the three-story build which includes a shaded open-air common space between two rows or banks of containers. The contrasting colored containers that jut out of the side really make this office stand out.
Riverside Building Offices
The historic London Docklands have seen a surge of redevelopment in recent years, including some projects from an organization called Container City. The Riverside Building is one such project that was constructed as part of the Trinity Buoy Wharf. It consists of 22 office suites spread over five levels and made using seventy-three shipping containers. As you can see from the picture, the building makes extensive use of external balconies connecting all the units and also providing shade to the numerous windows that were installed.
Which of these container offices caught your attention? Tell us in the comments section below.