Those of us who live in or near major cities often take for granted the availability of things like diverse foods, timely transit options, and even expert medical care. But not everyone has access to these luxuries, and even the most modern geographic locations may find themselves doing without during emergency situations.
Healthcare is a unique need with distinct requirements including highly trained personnel, specialized equipment, and specific environmental conditions. In this article, we're going to explore how medical shipping containers are a compelling option for meeting healthcare needs in rural locations, disaster situations, and other scenarios.
Modular Clinic Overview
Portable healthcare clinics exist to solve specific problems, despite some tradeoffs they introduce. Let's start with why mobile healthcare facilities are needed and how best to compare the various options.
Situations addressed by Modular Clinics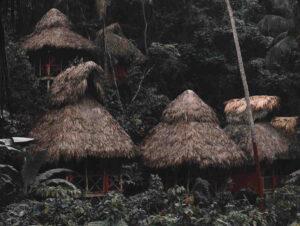 Disasters: Any type of natural disaster or man-made catastrophe can create demand for healthcare services that exceeds the supply. In these cases, a surge capacity is needed to handle the influx of people hurt or impacted.
Outbreaks: Disease pandemics like Ebola and COVID-19 create not only a flood of additional patients but also the added complication of contagious disease spread. Even if existing hospital facilities can fit the new patients, there is often value is placing these patients in special isolation or quarantine areas in separate buildings to protect other patients and workers.
Low Patient Density: Much like an electrical power plant or a fire station, a healthcare provider needs a certain density of nearby clients to make continuous operations sustainable and economical. Otherwise, a medical practice can't be based in the area without operating at a loss. So whether it is regular people who live in remote areas or workers (like military, mining, and petroleum industry employees) who are stationed in remote areas on a project basis, there are groups of medical patients who need healthcare but wouldn't have adequate access under traditional systems. Portable health clinics can provide healthcare services to these people on an as-needed basis.
Harsh Climates & Conflict Zones: Areas with extreme weather or hostile actors can make it difficult to source the labor necessary for typical construction projects. Modular or mobile construction, where most of the construction is done off-site and on-site work is minimal, makes it much easier to locate a facility in these uninviting areas.
Temporary Usage: When foreseeable problems like hospital renovation projects reduce the supply of medical spaces, stopgap solutions like portable clinics can help alleviate the demand until the project is completed.
Clearly, there are scenarios where some type of mobile, modular hospital system is invaluable. So with that understanding, what choices exist to meet that need?
Modular Clinic Construction Options
While this is certainly an article about shipping container clinics, we'd be remiss if we didn't discuss some other alternatives that attempt to help with the same challenges.
Below are a few other choices you have as you consider various means to construct a mobile clinic:
Regular Site-Built Clinics: When you need more space, just built more space, obviously! However, this simple answer ignores the realities of higher cost, increased construction time, and disposal (what to do with a permanent building after a temporary need is met).
Truck-based Clinics: Some mobile clinics are mounted on a truck chassis, making them truly mobile at a moment's notice to locations within driving distance. But in exchange, they are much more expensive, not very modular/expandable, and difficult to move internationally.
Tent Clinics: A tent is the ultimate in rapidly-deployable infrastructure. But large tents often required experienced workers to set up, and it is obviously not very resistant to external forces like bad weather or potential thieves and vandals.
Shipping Container Clinics: A completely rigid, secure, and structurally-sound facility that is also completely portable across road, rail, and sea. We'll discuss more of the attributes of containers later.
Modular Clinics Usage Options
We've used a few terms like modular clinic interchangeably in this article, but in reality, there are several different medical use cases for these structures beyond just simple clinics. The differences between each are subtle, but it's worth highlighting some of the possibilities:
Dentistry: Handling tooth and overall oral health is of huge importance for quality of life, both via preventative and corrective care. A dedicated space with privacy and access to equipment and materials is necessary for adequate care.
Isolation Room: Cases of infectious diseases require isolating patients from each other and from the general population. In the same way, people with immuno-compromised conditions also need to be isolated to prevent the transmission of harmful organisms.
Primary Care: Perhaps the most common application of a clinic is for a primary care provider, whether a doctor or nurse, who can address the overall wellbeing of local patients.
Maternity Care: The time period before and shortly after childbirth requires specially trained personnel and specialized equipment, which are a great fit for a modular clinic.
Telemedicine Suite: Real-time video chat has made telemedicine a practical option for places with access to high-speed internet service. A trained in-person technician in conjunction with a remote doctor can provide excellent patient care. A secure room with privacy, limited medical equipment, and state of the art computer system is needed, and a modular clinic works great in these situations.
Test Center: In cases with massive patients, such as large-scale food poisoning or disease outbreak, additional facilities are needed just to handle testing of new patients before they are potentially admitted to the main medical facility. This reduces the foot traffic into the main facility and keeps its space and workers from being overwhelmed.
Intensive Care Unit (ICU) / Surgical Suite: More specialized care to conduct invasive operations requires a higher level of cleanliness, additional equipment, etc. than existing facilities may be able to provide. A modular clinic can be a great way to quickly add this capability is less-than-ideal environments.
Typical Modular Clinic Features
What separates an empty shell from a modular healthcare clinic is how it is outfitted. We're talking about furniture, fixtures, and equipment, and also specific features integral to the building itself.
While the usage of the clinic (as discussed in the section above) will obviously determine much of how it is outfitted, below are a few general types of features and modifications you're likely to see:
Climate Control: For the comfort of patients and healthcare providers, some manner of heating, ventilation, and air conditioning is likely required. If the clinic also includes storage of medicines and/or has computerized equipment inside, this becomes even more important.
Air Quality: The human body is more prone to infection when exposed to 'dirty' air, especially during surgery or treatment of wounds. Therefore, it is important in many cases to ensure the interior air quality is kept at a high standard through filtration and other means. In particular, designers need to decide whether positive or negative air pressure is needed to protect the patients and those outside the clinic as well.
Storage: Most clinics will need room for storage of consumable supplies, durable medical equipment (DME), and tools used by healthcare providers. This may be in wall-mounted cabinets or even a separate room or closet.
Electrical Wiring: Nearly every clinic will need electrical wiring to provide power for lighting, climate control equipment, and medical tools including computers. Depending on the location, this may include provisions for off-grid power such as solar, line filters, and surge suppressors for low-quality grid power, or battery backup and generators where power is available but unreliable.
Plumbing: Many clinics will include at least a sink, and possibly even a full bathroom. In addition, some equipment may require water like dentist tools, autoclaves for equipment sterilization, etc.
Doors: Clinics will need at least one access door, if not more. It's important to consider access for patients in wheelchairs or on stretchers as well, so door width and occupant movement patterns have to be considered with door placement.
Security: When clinics aren't being actively used, such as at night, security must be maintained. Not only will clinics contain expensive equipment, but they may also have dangerous medications inside including narcotics that need to be tightly controlled. Security may include locks, cameras, alarms, signs, and other means of discouraging and preventing unwanted entrances.
Furnishings: Base level furnishings typically include chairs, cabinets, counters, and an examination table. Other items may be required per the specific intended use.
We've covered everything you'd need to have in a modular healthcare facility, regardless of construction type. But you're here because you're interested in shipping container clinics and want to see how they measure up. So let's talk about container healthcare options.
Pros of Container Clinics
Using a shipping container as a clinic provides numerous tangible benefits. Let's discuss some of the ways that the strengths of containers mesh well with the most common requirements for modular clinics.
Strong: Even smaller 20-foot containers have a payload capacity of tens of thousands of pounds. This means that after converting an empty container into a clinic, there is still plenty of excess capacity that can be used for extra equipment and supplies. The cost of moving a container is much more driven by volume than weight (cheaper to move one heavy container rather than two lighter ones of the same size), so you might as well fill it up and provide as many resources to the receiving party as possible!
Durable: Shipping containers are incredibly durable, and that enables them to not only to survive the trip to their destination but also to resist damage from use and abuse while there. It also means it can be moved again and again in the future without incident.
Easily Transportable: Virtually every habitable area on earth not only the capability to receive a shipping container but has a history of doing so previously. The infrastructure to move containers (ships, ports, railcars, trucks, lifts, etc.) exists all over the world. If you want to move something large across countries, a shipping container is one of the best ways to do it. And the fact that you can make the 'box' you're shipping in double as your actual healthcare facility is even better.
Size: Shipping containers are big enough to hold multiple people, large medical equipment, and supply storage. And yet, they are small enough to be delivered over most roads without any special accommodations. And if they aren't the right size, they can be expanded as discussed below.
Speed of Deployment: Thanks to the ease of transport and the size, container clinics can be self-sufficient units that require little setup prior to operations. In most cases, if things like water and electricity hookups are already present, a container clinic could be operational within hours of coming off the delivery truck!
Expandable: If one shipping container is good, two must be better! Thankfully, it's easy to stack containers or place them adjacent to each other with minimal work. It enables both the location and size of a medical facility to be flexible.
Simple to Convert: Creating a structure as strong and durable as a container from scratch would be a difficult task of engineering and manufacturing. Thankfully, all that work is already done for you, leaving the comparatively simple process of converting the empty container into medical space. It's straightforward enough that a number of volunteer groups (as shown below) have undertaken it successfully.
Airtight: As mentioned in the above section under Air Quality, modular clinics often have a medical need for tightly controlling the air supply inside the space. A basic necessity required to achieve that is an airtight building, and containers have this characteristic already (or with minimal modification if it includes small vents on the walls.
Low Cost: Given the benefits they provide, containers are surprisingly affordable and easy to find. Choosing used containers provides additional savings and some environmental benefits as well.
Cons of Container Clinics
It would be a clear oversight to fail to discuss some of the obvious downsides of building healthcare clinics with shipping containers. However, the impact of these negative attributes must be evaluated on a project-by-project basis.
Heavy: There is no way around it, containers are heavy. A regular 40-foot container weighs nearly 9000 pounds empty before any modifications are made. However, since the infrastructure to move them already exists, this weight usually isn't much of an issue.
On and Offloading: Due to their weight, containers can be a bit tricky to move from the delivery truck to the project site. You'll typically need a heavy forklift, crane, or other offloading equipment. However, small jacks can be used to vertically lift a container off a truck chassis, then set it on the ground (and could be stored inside the container when not in use). And if constructed well, a container clinic can be slid off the back of a tilt-bed trailer onto the ground without additional equipment.
Width: Containers are fairly narrow. Assuming some limited insulation is added along with interior walls, you'll have roughly seven feet of interior width. While this basically precludes you from having two rooms side by side across the width of a container, plenty of useful configurations are still possible that utilize the abundant lengthwise space.
Container Clinic Examples
Now for what you've all been waiting for! Below are several dozen examples of container clinics. Some are built by builders and designers while others were created by passionate volunteers. Some are sophisticated and modern, while others are more basic. However, all of them meet an important need in the medical community and provide a beacon of hope for someone who now has access to quality healthcare.
Connected Units for Respiratory Ailments (CURA)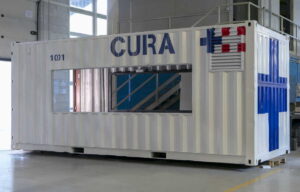 Italian architects Carlo Ratti and Italo Rota spearheaded a plan to create not-for-profit, open-source COVID-19 biocontainment units based on 20-foot shipping containers. Working collaboratively with a team of more than 100 designers, construction experts, and medical professionals and Carlo's Carlo Ratti Associati architecture studio, they created the CURA Pod.
The pods are mobile field hospitals that allow medical professionals to isolate and care for two patients at a time. Given that existing hospitals are being inundated with patients, these units provide a way to quickly supplement existing medical space with infrastructure that prevents further transmission of the disease.
A ventilation system designed to Airborne Infection Isolation Rooms (AIIRs) standards creates negative pressure. This ensures that medical professionals treating patients don't become infected themselves by the disease moving through common spaces and throughout the medical facility. Instead, the air in any one CURA Pod isn't shared with another unless it is filtered, helping with containment at a time when personal protective equipment (PPE) is hard to come by for medical providers.
Details of the units are available for free online in hopes that others will copy and use them. The first model was built and installed at a hospital in Turin, Italy. The design also includes the use of an inflatable structure that can serve as a central corridor and connect multiple pods together into a self-contained mobile field hospital.
Liberty Pods
BMarko Structures of Dacula, Georgia has come up with the idea of Liberty Pods. Created in response to the COVID-19 pandemic, the design includes both patient care rooms and modular ICU rooms.
Their idea makes use of several 40-foot containers joined together, which results in spaces that are a bit wider and more maneuverable than some other options. They also include private bathrooms inside each pod.
They plan to continue building Liberty Pods as long as demand exists, and even hope to create a healthcare division of the company in the future.
Container Medical Units
RoxBox of Erie, CO teamed up with several partner organizations to design containerized medical units. The units can be built with both 20-foot and 40-foot containers, though the illustration above utilizes a 40-foot model.
While they were created in response to the or the COVID-19 crisis, the container medical units can be used for a number of medical purposes thanks to their design flexibility. This includes ICU, exam/treatment, laboratory/testing, quarantine/isolation, or just surge space for non-critical patients.
Mobile Support Units
ThreeSquared, a Detroit-based design and engineering firm that specializes in shipping container architecture, is also working to help with COVID-19 response. Their Mobile Support Unit design is based on a 40-foot container and includes two patient rooms separated by a shared bathroom that doubles as an entrance and decontamination area for medical staff.
In addition to patient care areas, they also foresee their solution being used for additional housing units so that medical staff can stay close by to patients. They've also kept the future in mind, thinking about alternative uses for the units in the future, such as homeless housing or dorm rooms.
RAD Hospitals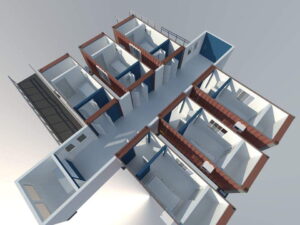 A team of volunteer architects, engineers, medical professionals, and container home builders have teamed up in the Philippines to create the Rapidly Deployable (RAD) Hospital initiative. The units are designed as isolation and intensive care areas for critical COVID-19 patients.
The design is based on used 20-foot shipping containers and takes advantage of a negative-pressure air ventilation system to reduce the spread of the virus. Each container includes an anteroom that serves as a disinfecting area, the patient room including HEPA filtered air supply, and a private bathroom for the patient. Healthcare facility standards were followed and everything from room layout to door hardware was designed with compliance and best practices in mind.
Plans include placing six RAD units surrounding a central corridor that houses a nurse station. The entire cluster can be built in 10-15 days, providing a quick relief valve for overwhelmed hospitals.
Mobile Medical Center
Global First Responder is an international medical relief organization based in Missouri. Working with WCS Construction and partners in the disaster preparedness industry, they have designed and built a mobile medical facility to be used on trips overseas.
The urgency of the COVID-19 emergency has prompted them to add the capability of outfitting the medical containers as exam rooms and overflow hospital beds. Whether at home or abroad, these container medical centers are making an impact.
Mobile Medical Clinic
Primary Mobile Med International is an organization based in Topeka, Kansas that supports both disaster relief and healthcare in developing countries, especially in Africa. Their work exclusively revolves around container medical facilities.
They offer a number of models in including clinics, laboratories, and even healthcare worker housing. Most of their units are built with 20-foot containers, and their clinic uniquely uses a side-opening container.
RxBox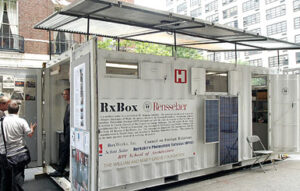 In 2006, Rensselaer Polytechnic Institute architecture professor Ted Krueger began teaching a studio course called RxBox: Open Source Architecture for a World in Transition. Students in the course worked to convert a 20-foot shipping container into a mobile medical facility.
The course and project were one of the first examples of container medical clinics. However, they were actually inspired by the "Doc-In-A-Box" concept championed by Laurie Garrett, a Global Health Fellow at the Council on Foreign Relations. The idea was to create mobile clinics from surplus shipping containers to be used for the prevention and treatment of infectious diseases.
Emergency Relief Shelter
This Mobile Hospital concept from South Korean designer Kukil Han showcases an incredible expanding clinic based on a single 20-foot shipping container. By using folding walls and nested sections, the footprint of the clinic can increase by a factor of three.
While it's certainly an innovative design, we're unlikely to see this particular idea turned into a tangible clinic. Most container clinics have a small budget and the folding and sliding pieces would be enormously complex and expensive.
Still, with it's integrated solar panels and transformational nature, the mobile hospital can still be a great source of inspiration.
Mobile Triage Unit
The HHI Corporation in Ogden, Utah has created a series of shipping container medical solutions in response to COVID-19. Most important is their mobile triage unit made from six 40-foot shipping containers. They also make a portable test lab and a containerized bio-containment system, each made from a single 40-foot shipping container.
The mobile triage unit is designed to be self-sustaining if required, with generators, HVAC equipment, tanks for grey and fresh-water, etc. all included. Out of the six shipping containers in the system, one is used for support equipment, one is used for nursing stations, and four are used for patient rooms.
Altogether, the system provides a total of 12 beds to treat overflow patients, along with bathrooms and donning/doffing areas for the healthcare professionals that enter the patient rooms.
Texas Aggie Medical Clinics
Texas A&M University's student-led organization BUILD was formed in 2013 to create container-based medical clinics. Initially started with the goal of building 12 clinics to honor the 12 students who lost their lives in the Aggie Bonfire tragedy of 1999, the organization has gone on to build almost 30 clinics.
When completed, the portable container clinics are typically shipped to countries around the world to help patients with limited access to medical care. However, they have also provided clinics to the low-income colonias of South Texas and to a Houston hospital for use in COVID-19 testing and treatment.
Building materials and medical equipment for the clinics are provided thanks to donations from generous community partners, and all labor is provided by student and community volunteers. Clinics usually include waiting, exam, and operating rooms along with the associated cabinets and fixtures.
Clinic in a Can
Clinic in a Can is one of the more recognizable shipping container clinic options. It was originally started as an arm of Hospitals of Hope, a Christian medical missions organization.
Based in Wichita, Kansas, Clinic in a Can has built shipping container medical modules for countries around the world as well as for use domestically in the US. Their units have been used for everything from disaster relief and infectious disease isolation wards, to trauma/emergency units, to dental suites, and even pharmacy storage.
While the photo above shows a two-room clinic based on a 20-foot container, they utilize 40-foot and even 10-foot containers in their designs as well. They also have several successful installations around the world that utilizes multiple containers in one complex.
They also offer the option of grid-power, onboard diesel generators, and increasingly, solar-powered options with battery storage.
Containers 2 Clinics
Containers 2 Clinics was founded in 2009 as a way to provide preventative and primary healthcare in Haiti and Namibia. They partnered with Stack + Co, a shipping container design and construction firm in Boston, to create their clinics. Along the way, they changed their name to Care 2 Communities and began to focus on permanent clinics made with traditional construction.
Still, their example is worth highlighting. A typical container clinic included two 20-foot containers with space for consultations, a pharmacy, lab, and waiting area. Just as important, both containers were packed full of pharmaceuticals, lab supplies, and medical equipment before deployment abroad.
Homes of Living Hope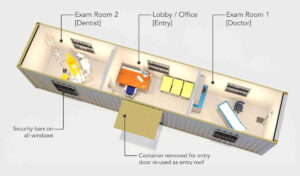 Homes of Living Hope is an organization that empowers volunteers to use shipping containers as a means to create medical clinics, schools, and other facilities for underserved areas of the world. While based in Colorado, they have worked with community organizations around the US to undertake the container project builds.
Their container buildings are designed specifically for the needs in a specific location, so no two look the same. And many of their containers have extensive murals covering their entire exterior, making them distinctive and giving an additional way for the volunteers who create them to share their creativity and love with the people who will use the containers.
REFLEX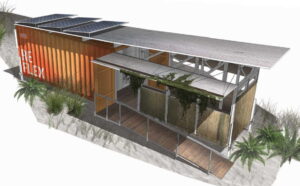 Building Trust International is a non-profit charity focused on using design to solve numerous world issues. Among many of their initiatives are design competitions.
Moved to Care was the name of the 2014 competition, which focused on creating decentralized, mobile health clinics in Southeast Asia. There were dozens of submissions in both the student and professional categories, but we want to specifically highlight the winning student proposal.
REFLEX was the entry designed by Christopher Knitt from the University of Wisconsin. The design incorporates a sliding metal frame that fits inside a standard 20-foot container.
When the frame is pulled out of the container, the floor area of the combined space is effectively doubled. Panels of local materials are added as cladding to the metal frame, providing a bit of vernacular architecture.
Inside the container is a medical procedure area with climate control, while the metal frame can house auxiliary exam rooms. Everything, including the roof that aids in airflow, can be packed away in the container for shipping to a new location.
While only a concept, the idea demonstrates an interesting way to make a fairly affordable, expanding footprint that also takes on the character of the local environment through the use of natural materials native to the building site.
Refugee First Response Center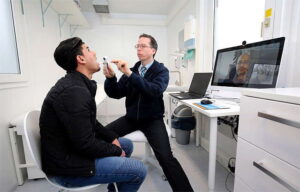 The Refugee First Response Center (RFRC) is a unique medical emergency station created in Hamburg, Germany and housed in a 20-foot shipping container. It was created to assist with medical care associated with the wave of refugees to Europe from North Africa and the Middle East in the 2010s. Subsequent RFRC's have been placed in Lebanon and Greece.
In short, the RFRC serves as a consultation center for refugees needing medical care. It incorporates a video teleconferencing system so that doctors in the container can have live video-translation to communicate with patients in 50 different languages.
G3Box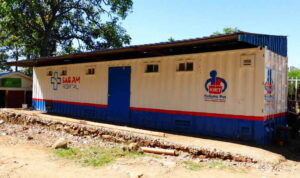 The G3Box, which stands of Generating Global Good, was a shipping container clinic providing sanitary medical space and equipment focused on maternity care. It was created as a student startup company out of Arizona State University.
Though the group only produced one container clinic, it was successfully sent to SAGAM Community Hospital in Kenya where it has helped numerous mothers over the past several years. And their story still serves as a valuable lesson for future container clinic builders.
Solar-powered Container Medical Clinic
Once again we feature a shipping container clinic from Arizona State University, though this time from a completely different team from the project mentioned above. Thanks to a $2M grant from the US Military's Office of Naval Research Defense University Research-to-Adoption Program, professor Nathan Johnson and Ph.D. student Cody Van Cleve created a prototype container clinic with some unique features.
The grant was used to fund research into rapidly deployable medical units that can provide stable power and clean water when neither are available in the local environment. It's a useful capability for humanitarian aid, disaster relief, and of course military operations.
About half of the 40-foot shipping container is dedicated to medical services provided in three separate rooms as shown in the photo above. The other end of the container has utility systems and storage.
Included is a water purification and sterilization system that can clean about 1,200 hundred gallons an hour along with a large storage tank. It also has battery storage, microgrid controllers and inverters, a backup generator, and solar panels that can be set up outside the container. Together, they form a 10 kW power system.
Once completed, the container clinic was sent to the Ayilo II Refugee Settlement in northern Uganda where it serves over 12,000 refugees from South Sudan. Medical services include triage, blood testing, primary care, and more.
Samsung Solar-powered Telemedicine Center
Samsung's Digital Villages initiative is meant as a way to provide solar power and community services to several rural areas of Africa. The system includes a mobile truck-based health clinic, as well as shipping containers used for a school, a solar infrastructure system, and a telemedicine center.
The container-based telemedicine center is what we find most interesting. It provides computer access to store patient information and also serves as a space for medical diagnosis and care via remote video conference. By connecting rural patients with medical doctors in bigger cities, the center is able to multiply the effectiveness of limited healthcare providers and save precious time that would otherwise we be spent traveling to remote sites.
Modular Life Solutions Pods
Modular Life Solutions of Jacksonville, Florida is a builder of modular shipping container pods that can provide vital services around the world to those in need. They offer a variety of products including those optimized for living, education, power, and even a kennel.
For this article, we're most interested in their medical, surgical, and telemedicine pods. They focus on self-sustainment, with pods that feature solar panels, backup generators, and even water purification systems. They also include satellite-based internet connectivity to provide voice and data use along with remote monitoring almost anywhere on earth.
Smart Pod
Dr. Sharmila Anandasabapathy and her team at the Baylor College of Medicine in Houston, Texas developed a deployable field hospital that utilizes a shipping container platform as it's base. Instead of modifying a regular shipping container to fit this purpose, the Pod is based on a purpose-built frame that is the same size as a 20-foot shipping container. One unique feature of the Pod is that it expands in two directions, creating an interior that is roughly 24 feet by 20 feet after setup onsite.
The container-esque Pods can function as surgery suites, laboratories, or just primary care clinics. And because they are based on 20-foot containers, they can be shipped worldwide using existing shipping container transportation infrastructure.
Over time, the Pod idea was extended to include additional uses like handling high-level infectious agents during disease outbreaks. It was even one of the winners of USAID's Fighting Ebola Grand Challenge, created in response to the Ebola crisis of 2014.
Unjani Clinics
Unjani Clinics (Unjani means 'How are you?' in Zulu) are a collection of over 50 innovative shipping container clinics spreading across communities in South Africa. Most of the clinics are manufactured from used 40-foot containers, though each site's configuration is tailored to the needs of the community. Clinics typically include an outside reception area, an examination room, a restroom, and a medicine dispensary.
What makes the clinics special is not just their design, but their social enterprise business model. The clinics are funded by corporate sponsors, then given to healthcare providers who pay back the initial costs over five years until they own the clinic themselves. This makes them owner operators and entrepreneurs, not just medical workers. They are also provided with necessary equipment and training in skills like financial management and marketing to ensure their success.
Patients are charged a small amount to see a healthcare provider. Most clinics are actually staffed by nurses which keeps costs down. However, the nurses are able to dispense medicine, treat illnesses like diabetes, HIV, and hypertension. They can also provide family planning information and vision screening services.
CommonHealth+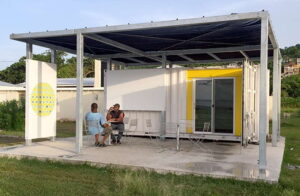 Several groups from the University of Michigan combined forces to create an ophthalmology clinic in a 20-foot shipping container called CommonHealth+. Once finished, the container was packed up and shipped to Sandy Bay, Jamaica where the majority of the population had never even had an eye exam.
The container includes solar panels and batteries, a climate control system, a fold-out shade structure, and of course necessary medical equipment. Doctors hope to improve the clinic with future iterations in other locations that incorporate more diagnostic machines and even automated equipment so patients with chronic conditions can monitor themselves without traveling to a doctor.
Hospitainer
Based in The Netherlands, Hospitainer is a company dedicated to container medical solutions across a wide spectrum of products. They provide shipping containers medical spaces for surgical care, maternity care, diagnostics, dentistry, infectious disease control, and more. Their products utilize both 20-foot and 40-foot containers, often attached together to create larger areas.
Hospitainer focuses on serving disaster areas, conflict regions, and developing countries, as well as developed countries that just need more flexible infrastructure options. And they have the capability to pre-pack container with supplies, medicines, and equipment and
Blue Box Clinics
Blue Box Clinics are shipping container medical facilities painted a distinctive blue. There are dozens of them throughout sub-Saharan Africa.
The clinics are created and run by North Star Alliance, an organization started in 2006 and headquartered in The Netherlands. The organization was formed to address a very specific need: the loss of truck drivers to the HIV epidemic. The problem was getting so bad that food shortages were occurring due to a lack of truck drivers to deliver it.
Now, the clinics provide primary health care to underserved populations including testing, education, and treatment for infectious diseases like tuberculosis, malaria, Ebola, and HIV. Patients are predominantly mobile workers like truck drivers and sex workers, along with communities that have limited healthcare access.
The Blue Boxes are located along major transport routes, bringing healthcare access to concentrated areas of patients so they don't have to lose valuable work time traveling to medical facilities. They also have a unique electronic health passport system so that patient information is viewable in any clinic, and care can continue across locations. Their education and treatment services play an important role in reducing the spread of diseases across countries and regions.
Clinique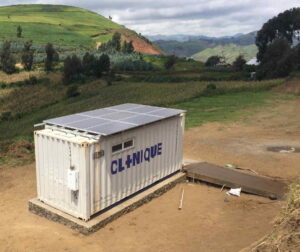 The School of Architecture and Interior Design at St. Andrews University in Berrien Springs, Michigan created the Clinique medical container as a student studio project. Based on a 20-foot shipping container, the clinic operates as a modern medical diagnostic facility in the Democratic Republic of the Congo.
The clinic includes features like solar panels, batteries, a water heater, HVAC system, a medicine refrigerator, and specialized medical equipment. Given the remote location and lack of dependable utilities, the container clinic had to be self-sustaining in that it could store its own water and generate its own electricity.
Since building their first Clinique container, students at St. Andrews have gone on to construct a clinic for the African country of Eswatini, with plans to build another one for the Democratic Republic of the Congo.
WELTRAC Dental Clinic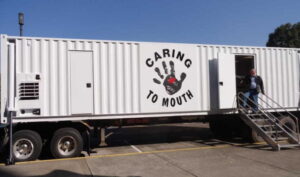 The Wellness Evaluation Limited Transport Rural Access Clinics (WELTRAC) from Caring Hands Worldwide are shipping container medical units focused exclusively on dentistry. The clinics are housed inside specialized 40-foot containers, with locations in Micronesia and Lane County, Oregon.
As you can see, the container has hydraulic rams on both ends, allowing it to be stabilized on or removed from a truck chassis without additional equipment. Inside, the clinic has typical dental equipment and a power plant so that it can provide worldwide care at the same standards as what is available in the United States.
Medical Assessment Pods
Xcaliber Container in Graham, Texas has recently begun production on a variety of medical assessment container pods in response to the need for COVID-19 testing and treatment facilities. Each pod is based on a standard 20-foot shipping container.
Varieties include a Mobile Drive-Through Pod so that healthcare providers can conduct tests through windows or by stepping outside the pod to test patients in their vehicles. They also produce a Mobile Clinic with two completely isolated examination rooms that allow for testing and treatment of suspected patients.
These are bare-bones units making them quick to manufacture and ship. The receiving entity would need to outfit the pods with any equipment and furnishing necessary to support their use.
Project 3.7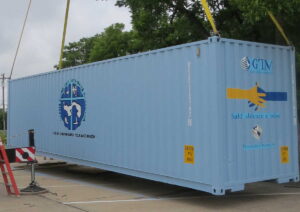 First United Methodist Church in Duncanville, Texas created a container clinic they call Project 3.7. The name comes from the approximate mass in metric tons of the empty 40-foot container upon which the clinic is based.
The project was completed by over 70 volunteers who donated their nights and weekends over almost a full year. It was eventually shipped to missionaries in the Cienaguita region of western Panama in 2015 along with 13,000 pounds of medical and humanitarian supplies.
Inside, the clinic is outfitted with three examination tables, a dental chair, as well as a generator and air conditioning unit. It can provide a host of medical services for the rural, primarily indigenous population.
Summary
Shipping containers have been used for all types of structures, both permanent and temporary, stationary and portable. It's this geographic and functional flexibility that makes them great as medical clinics.
We talked about why and how you might use a container to solve the specific design and construction issues that modular clinics often face. And more importantly, we showcased dozens of examples of shipping container buildings used in the healthcare field both at domestically and internationally.
It's inspiring to see companies and people working to improve lives using shipping containers. Even if you never work inside or help build a container clinic, you can certainly appreciate the lives they are improving around the world. And you can be encouraged to come up with your own creative use for containers as well.
Do you know of other shipping containers being used in the healthcare field? What do you think about some of the novel ideas shared above? Give us your feedback in the comments below.